In this Issue...
March is Women's History Month
Columbus Hotel Games Return!

OHLA Volleyball Registration

Lodging Council Business Meetings
Membership Update
Government Affairs
Hotels on the Hill
Education & Workforce Development
Emerging Professionals
Women in Lodging
Unique Lodging of Ohio
Sedgwick March Newsletter


---
March is Women's History Month
March is Women's History Month, and we at the Ohio Hotel & Lodging Association want to recognize everything women have contributed and continue to contribute to our industry. Let's celebrate the 'women who tell our stories' today and everyday. Check out our social media for posts throughout the month highlighting women, their stories, and their impacts! #ItStartsWithUs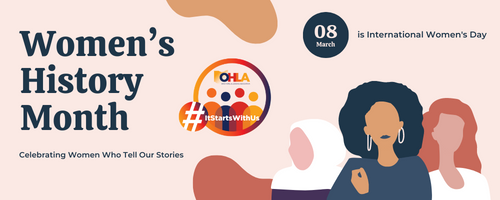 ---
The Return of the Columbus Hotel Games!
On February 8, the Greater Columbus Hoteliers got back together for the 1st time in three years for the Columbus Hotel Games! This event was created & currently hosted by area HR professionals for Columbus hoteliers to participate in a day of camaraderie and friendly competition in hotel related relays/games. It is meant to be a day for associates to get off property and foster connections for those in the industry!
We were pleased to have Jason Abady and Mason Zimmer from the Greater Columbus Sports Commission be our co-emcees for the event! They led our 11 teams through six fun, hotel-related trials in which they were pitted against one other for some fierce competition. Many stood out of the crowd and took home our superlative awards, including:
Best Team Spirit
Le Méridien Columbus, The Joseph
Best Team Leader
Michael Bernhard, Marriott Columbus Northwest
Most Valuable Supporter
Monica Black, Hilton Columbus Downtown
Best Teamwork
Red Roof
Most Valuable Player
Jacob Mauch, Hyatt Regency Columbus
Though all teams battled fiercely, only one was left standing. Congratulations to our Grand Champion of the 2023 Columbus Hotel Games - Hilton Columbus Downtown!
A big thank you to our presenting sponsor Sedgwick, represented by Julia Bowling & Rebecca Rohner! Thanks also go out to our supporting sponsors Ohio Textile, Greater Columbus Convention Center, Levy Restaurants, Mills James, and Smart City. These games only happen with your support!
Need another healthy dose of competition? - 2023 OHLA Volleyball Tournament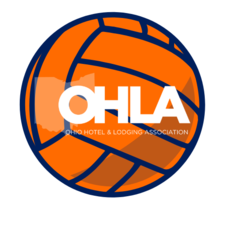 Our OHLA Charily Volleyball Tournament will be returning this spring on Saturday, May 13th - so MARK YOUR CALENDARS! We will be returning to Woodland's Backyard for all half-day tournament of fun & camaraderie among hotel properties and management groups. Online registration is set to open mid-March.
Want to secure your spot sooner? Contact michele@ohla.org with your team's information. Limited spots are available. We had 26 teams last year - can we beat it?
---
OHLA Lodging Council Business Meetings
OHLA Lodging Council Meetings are back in full swing! Be sure to continually check the OHLA Calendar to see when we will be visiting your area of the state.

Upcoming Events:


Greater Cleveland Lodging Council Meeting
March 14
10:00am-12:00pm
Hilton Garden Inn Cleveland Downtown
Greater Cincinnati Lodging Council Meeting
March 23
10:00am-12:00pm | Time subject to Change
Cincinnati, OH
To see schedule of events go to:
Interested in hosting an OHLA event at your property? Contact OHLA Director of Event Strategy & Development at michele@ohla.org.
---

---
Government Affairs Update


Governor's Proposed Budget Makes Changes to TourismOhio
Governor DeWine has provided his proposed $87 billion budget for the State of Ohio for Fiscal Years 2024-25 to the Ohio General Assembly. The bill containing the language for the biennial spending plan is the largest vehicle for policy changes in each two-year legislative session.
This session, the Governor has proposed changes to the state's visitor marketing agency, TourismOhio. The proposal would change the name of the division to "State Marketing Office" and alter its focus. In addition to attracting visitors and supporting Ohio's travel economy, the agency would also be charged with marketing to attract potential new residents and workers to Ohio. However, no additional revenue for the expanded mission is included.
While efforts to promote Ohio as a destination "for living, learning, working and traveling" are potentially beneficial, travel economy businesses are calling on lawmakers to recognize the economic impact of the state's marketing efforts aimed specifically at visitors and travel, and to ensure adequate resources for that important economic development tool.
See more in full Government Affairs Update.
---
Hotels on the Hill
The Hamilton Hotel - Washington, D.C.


The hotel industry's annual legislative summit returns in 2023. A lot has changed since hotels last united in the nation's capital for the 2019 Legislative Action Summit. It's a new era, with new challenges and a new Congress, and it's time for a new name for our industry's day on Capitol Hill. Join fellow hoteliers from across the country, meet with Members of Congress from Ohio and share the issues impacting your business, your guests and the great people who work in our industry.
Registration information:
Early Bird Registration (until Today, Mar. 1) $225.00
Hotel Accommodations Rate $339.00/night
Sample r/t airfare as of 2/1: $190.00
OHLA provides scholarship/stipend assistance to help cover the cost of attending. Contact Joe Savarise at joe@ohla.org or 614-461-6462 for details.
OHLA will also provide support for Ohio hotelier participants leading up to and during the Hotels on the Hill event. OHLA members are invited to an exclusive dinner event for visitors from Ohio at no extra charge if you are registered for Hotels on the Hill. OHLA staff and leaders will also be present for meetings with Ohio lawmakers, will provide state-specific information, and be available for questions or guidance.
---
Education & Workforce Development Update
2023 The Future of Lodging Summit is expanding to offer two mirrored events.

The Education & Workforce Development Committee is planning to hold two summits this year. Our Inaugural Future of Lodging Summit was very successful in getting the feedback we needed from those attending. With the actionable outcomes of our inaugural summit, we are able to expand on several topics of importance. The 2023 summits will mirror each other in content, promotions and some sponsorships.
Future of Lodging Summit Cleveland
Thursday, April 27, 2023
Aloft Cleveland Downtown

Future of Lodging Summit Cincinnati
Wednesday, October 11, 2023
Cincinnati, OH
CLEVELAND
Online Registration for Cleveland will open March 9th. However, if you want to to secure your seat, please contact michele@ohla.org with your name, organization, & email.
For the most up to date information go to

Cleveland Schedule & Session Descriptions
8:15 AM

Registration Opens

9:00-9:30 AM

Messages of Welcome

9:30-10:45 AM

Flexibility is Essential

There IS flexibility in the industry. Lodging leaders will be provided new tool too encourage stronger engagement and achieve greater flexibility with staff. Educators will uncover more ways to open new doors for their students entering the industry using their unique skills.

10:55-11:55 AM

Empowerment into Development

Join in discussions regarding supportive communications toward growth. Let's build a road map. What does it take?

12:00-12:50 PM

Lunch

12:55-2:15 PM

A Panel Discussion-DEI Includes You

As we work to build the industry's workforce, join in and hear from a variety of sources on how they are approaching diversity, equity, inclusion and belonging.

2:20-2:30 PM

Conclusion
Future of Lodging Summit Support
Sponsorships are available to support of The Future of Lodging Summits. Interested? Contact cindy@ohla.org
Thank you to our current sponsors!
| | | |
| --- | --- | --- |
| Presenting Sponsor | Programming Sponsor | Poll Sponsor |
---
OHLA Emerging Professionals

Hotel & Lodging Industry Leaders - We Need Your Help!
Who on your team is new to their job? Who on your team has recently stepped up to bat in a BIG way? Who would you like to provide introductory education for?
Introduce us to them! We would love to be an opportunity for your associates to further their education, widen their network, and help them grow as a leader.



Up Next on the Calendar...
EP Third Thursday Trivia Night
March 16, 2023
7:00-9:00pm
Taft's Brewpourium Franklinton
Save the Date! EP Executive Roundtable (Third Thursday)
April 20, 2023
8:00 -10:00am | Time Subject to Change
Tentative: Columbus Marriott NW
---
Women in Lodging CONNECT


WIL CONNECT Anti-Human Trafficking Monthly Tip: March
Large events taking place in the city are prime times for trafficking at nearby hotels. Sporting events, shows/exhibitions, large gatherings of any kind that draw a crowd where the victim may not be noticed so easily. When large exhibitions come to your city make sure your staff has a plan in place should an event present itself - this begins with your concierge, bellman, front desk, security, and valet staff. Host a training with your staff prior to these city-wide events if you can.
Did you know? You can request a property-wide anti-trafficking training for your associates from OHLA.
WIL CONNECT: Women's History Month Cocktail Connection
March 21, 2023
4:00-6:00pm
Canopy by Hilton Columbus Downtown Short North
Complimentary to Members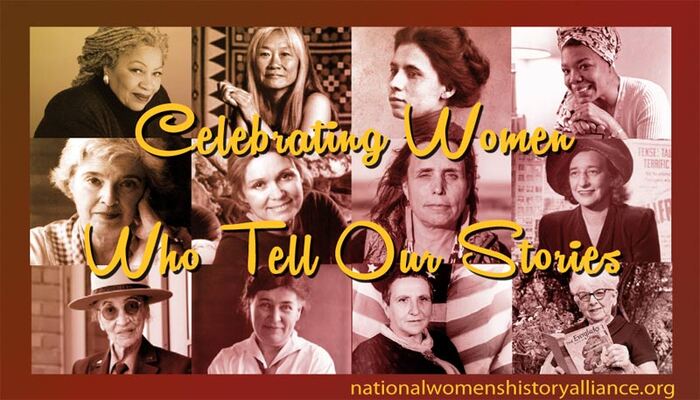 The 2023 National Women's History Month theme is "Celebrating Women Who Tell Our Stories." To help celebrate we want to feature our Lodging & Hospitality female leaders.
Send us stories, to be featured in March, about those women who work at your properties everyday to bring joy and increase your hotel scores! Send testimonials to cindy@ohla.org.
Learn more about the National Women's History Month theme here.

The 2023 Theme is #EmbraceEquity! Prepare to tag us on social media showing us your best "embrace" pose & let us know why you value equity!
Example: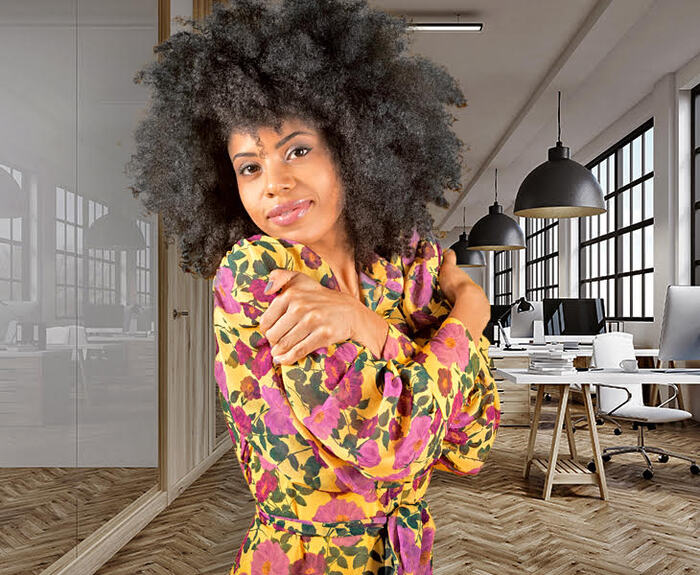 #EmbraceEquity #IWD2023
Save the Date! - Women in Lodging Statewide Luncheon
June 15, 2023
Thank you to our sponsors!
2023 WIL Connections Sponsor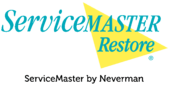 WIL Supporting Sponsor

---
Unique Lodging of Ohio
Join Us - ULO Community! A Marketing Webinar Series just for YOU
The ULO Council & RevLocal have partnered for an upcoming marketing webinar series on everyone's favorite topic - Social Media!
The first of a 3-part series will be "Your Social Media Marketing Plan for Success" happening March 29 beginning at 10am. This webinar will go through the best practices of social media marketing focusing on the needs specific to our independent and Unique Lodging properties. Find concrete examples and easy ways to improve your social media game!
Your Social Media Marketing Plan for Success
March 29, 2023
10:00-11:00AM
Virtual Webinar
We need YOU! Join the ULO Council today!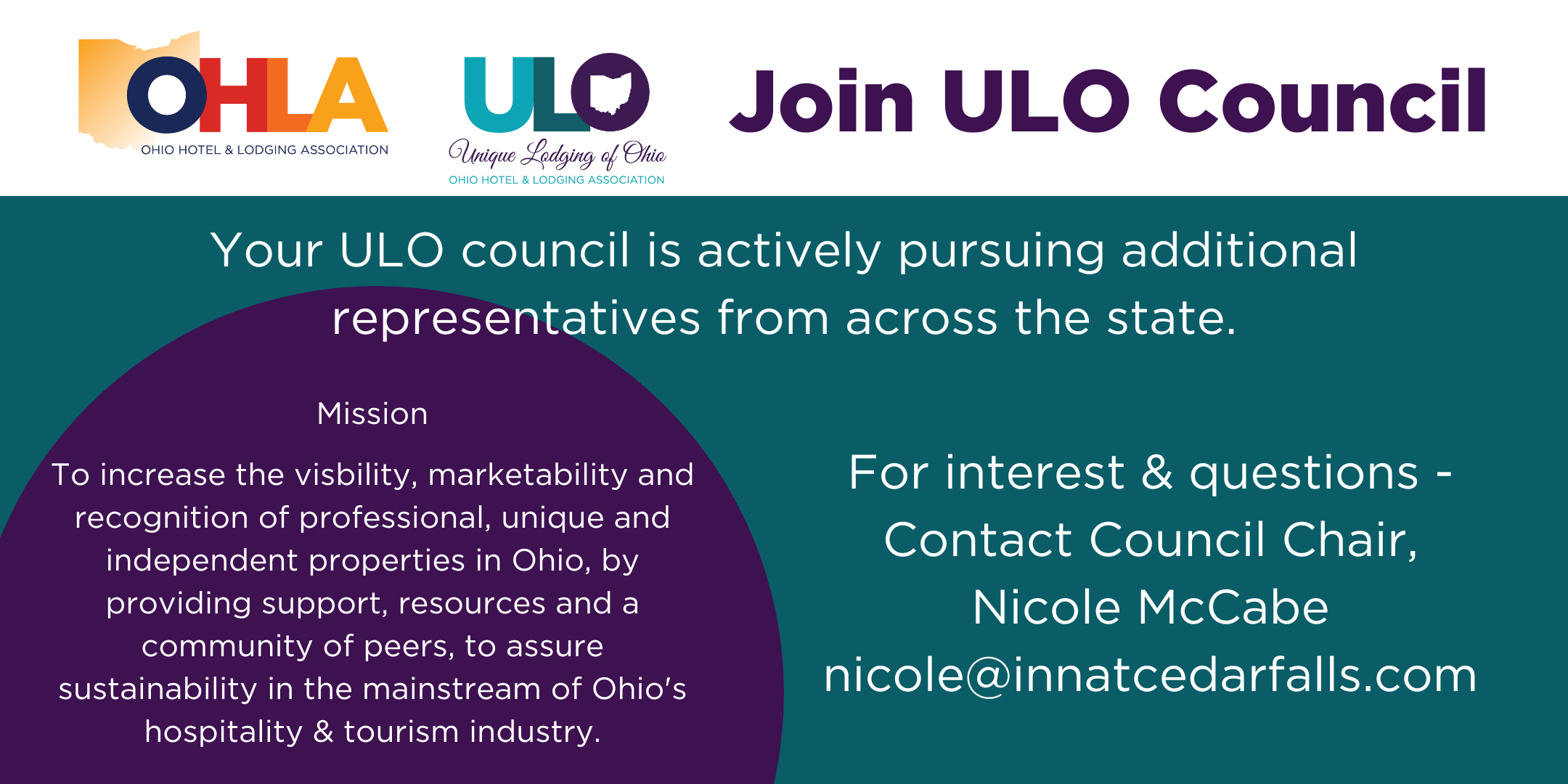 ---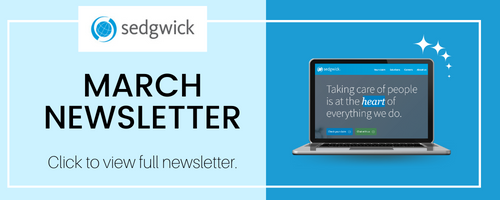 ---
Thank you to our Premier Partners for their support of the hotel & lodging industry!
Each month will will highlight a few of our Premier Partners & demonstrate how they can help YOU with your daily operations! Questions about services provided? Contact michele@ohla.org.
| | |
| --- | --- |
| | TRUSTED WITH THE WORLD'S BIGGEST JOBS, YOURS. BMS CAT offers cleaning, restoration and reconstruction services to our customers throughout the world. Over the years, we have helped thousands of clients recover from disasters both big and small. |
| | Bulletproof your 401K from Fiduciary Liability with the new OHLA Multiple Employer 401K Program (MEP) James Bishop and The Fortis Group have partnered with OHLA to offer a retirement plan program that individual properties and most ownership groups or management company members would not be able to achieve on their own. |