2019 Annual Conference and Gala - Thank you for #JoiningtheCaravan!
November 25-26, 2019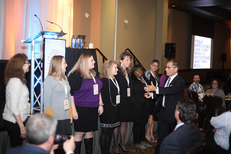 November 25th and 26th OHLA held its 2019 Annual Conference & Gala at Kalahari Resorts & Conventions in Sandusky, Ohio. OHLA invited hoteliers, Allied Members, industry partners, speakers, students, and educators to #jointhecaravan to the Northwest Ohio property and enjoy a 24-Hour Experience which included education, receptions, & our coveted Ohio Stars of the Industry Gala. There was truly something for everyone with over 30 industry experts, 20 educational opportunities, 50+ vendors, and topics ranging from Tea Service to marijuana legalization. Over 375 industry professionals got to "Experience the Magic" of the best OHLA speaker lineup yet with the Founder of Eleventh Candle Company, Amber Runyon, "Ex-Disney Guy" John Formica, and the comedic & nerdy stylings of Beth Ziesenis, Your Nerdy Best Friend.
One of OHLA's initiatives has always been to aid the fight against Human Trafficking so it was only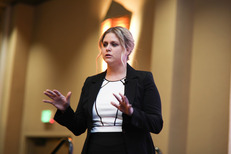 fitting that we have Anti-Human Trafficking Champion, Amber Runyon of Eleventh Candle Company speak to attendees about her personal experiences as a hospice nurse turned social entrepreneur. Amber shared how she turned her desire to help bring hope to women into a business whose purpose is to redeem, restore, empower and equip those vulnerable to human trafficking.
Our Keynote & closing session speaker John Formica, The "Ex-Disney Guy," shared with us what it would be like if "Disney Ran Your Business" and how to "Dream, Dare, Believe & Do" through the eyes of Walt Disney himself. A truly dynamic speaker he made his way up and down the aisles of tables, gave out prizes, and kept the audience engaged throughout both of his highly reviewed presentations. He left the audience with the tools to create a Disney-like experience of customer service in their own property. Just like Walt he really did "plus everything by 1"!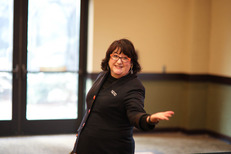 Keeping the energy flowing into day two Beth Ziesenis, Your Nerdy Best Friend took the stage at our Luncheon sponsored by Spectrum and gave us a look into "A Day in the Life of a Nerdy Hotel & Lodging Professional". Attendees learned how a professional nerd solves a security crisis before 10 a.m., to make more of a lunch hour with an extra set of virtual hands, to save money on software before the staff meeting, and to bring the team together online before the day is done. Beth kept the atmosphere light and humorous while giving the audience ideas about how they can use technology to make their day easier.
The pinnacle of every year's event is our Annual Ohio Stars of the Industry Awards Gala in which we honor those who really do help "Chart the Course" into the future of lodging and go the extra mile to help their properties, colleagues, & guests. This year was no different with a total of 19 awards given to well-deserving individuals. Nominations from peer, industry professionals and partners ensure that the high level of service and quality from our industry and its people are noticed.

Congratulations to our 2019 Ohio Stars of the Industry Award Winners!
Ohio Textile Service Ohio Housekeeper of the Year
★ Sonya Spikes, DoubleTree by Hilton Cleveland Downtown Lakeside


SEL Ohio Textile Service Ohio Housekeeper of the Year
★ Regina Westerbeck, Homewood Suites by Hilton Cincinnati - Mason


PeopleReady Ohio Server of the Year
★ Vickie Baber, Hyatt Regency Columbus


SEL PeopleReady Ohio Attendant/Host of the Year
★ Sandra Gallegos, Hilton Garden Inn Columbus Polaris


Ohio Front Desk Associate of the Year
★ Kwasi Afreh, Hotel LeVeque, Autograph Collection


SEL Ohio Front Desk Associate of the Year
★ Kelly Thompson, Holiday Inn Express & Suites Cincinnati - Blue Ash


BMS CAT Ohio Supervisor/Manager of the Year
★ Tina Howell, Marriott at the University of Dayton


SEL Ohio "Jack of All Trades"
★ Charday Orr, Courtyard by Marriott Springfield Downtown


Ohio Engineer of the Year
★ David Argento, Hyatt Regency Columbus


SEL Ohio Engineer of the Year
★ Reginald Cavor, Holiday Inn Express Cleveland Downtown


Anonymous Insights Ohio Service Superstar of the Year
★ Carl Dowdell, DoubleTree by Hilton Cleveland Downtown Lakeside


OHLA Volunteer of the Year
★ Steve Van Sickle, Sauder Heritage Inn & Campground


Allied Member of the Year
★ Towne Park


HSMAI Signature Worldwide Sales Leader of the Year
★ Brad Russell, Canopy by Hilton Columbus Downtown Short North


Plunkett's Pest Control Unique Lodging of Ohio Property of the Year, Under 20 Rooms
★ Chateau Lake Logan


Plunkett's Pest Control Unique Lodging of Ohio Property of the Year, Over 20 Rooms
★ Mills Park Hotel


SEL TravelHost Ohio General Manager of the Year
★ Judy Miller, Red Roof Plus Columbus Dublin


TravelHost Ohio General Manager of the Year
★ Lisa Garner, Marriott & Residence Inn Columbus University Area


CareWorks Ohio Managed Care Hospitality Leadership Team of the Year
★ Courtyard by Marriott Youngstown Canfield
Monday, November 25th, 2019

12:00 PM
Registration Opens
1:30PM
Exhibitor Load-In
3:00 PM
Take off with Tech

The Musts & Benefits of Having a Digital Marketing Plan to Succeed in Lodging
How do You Hire? Make the Shift
Are You Hackable?

4:00 PM

New Member Program - All are Welcome
"Ready to Launch" – The ULO Website Reveal
Owner / Mgmt Company Program - Invite Only
WIL: The Path to Professional Empowerment - All are Welcome
Exhibitor Experience

6:00 PM
Cocktail Hour in Exhibitor Experience
7:00 PM
Ohio Stars of the Industry Gala Dinner

Tuesday, November 26th, 2019

7:30 AM
Registration Opens
8:15 AM

Exhibitor Experience & Silent Auction Open
Annual Meeting/ Opening Session

9:15 AM
Exhibitor Experience Break & Attendee Brunch
9:45 AM
Student Session Roundtable
9:50 AM

A "Hire" Perspective: A Panel Discussion
Corporate Social Responsibility: What is it & why does it matter?
Service to a "Tea" - ULO Recommended Session


10:40 AM
Exhibitor Experience Break
11:05 AM

Resources: Modern Thinking & Instruction For Your Staff
Negotiating Value - HSMAI Sales Recommended
This Session is "Dope"! - ULO Recommended

12:00 PM
Exhibitor Experience Break
12:20 PM
Luncheon - "A Day in the Life of a Nerdy Hotel & Lodging Professional"
12:30 PM
Silent Auction Closes
1:15 PM

Customer Experience & Innovation: A Beta Test
Prospecting & Making Your Pipeline - HSMAI Sales Recommended
Work with what you got! Generating additional revenue in the space you have - ULO Recommended

2:10 PM
General Session: Dream, Dare, Believe, & Do!
3:00 PM
Auction Payout at Registration
2019 Annual Conference & Gala Sessions
WIL: The Path to Professional Empowerment
Continuing our 2019 female empowerment theme, we'll be finishing the year with a powerful message. Take away more ideas to strengthen your leadership style, and communicate effectively. Discover ways to increase actions to build great teams, and your path to continued success.


Student Session: Charting Your Course into the Lodging Industry
Roundtable discussion with industry professionals to define your course into the hospitality industry. Hear from professionals from CVB/DMO positions, hotel human resources, hotel sales/catering, and Unique Lodging & independent hotel positions.


A "Hire" Perspective: A Panel Discussion
The dos, don'ts, & best practices of hiring, tackling trending challenges and discussing solutions. We want to keep you informed of the inventive ways to attract the right employees and think outside of the box. You will discover the truth/reality of "Negative Unemployment" and learn of the best alternative candidate sourcing methods.


Corporate Social Responsibility: What is it & why does it matter?
Join Anne Weigand, Director of Happiness at Aunt Flow for an interactive chat about making your place of hospitality the best for employees and guests. Learn why offering free feminine products in your bathrooms for employees and guests matters, increase hotel ratings by offering high quality products to guests, and improve the use of Corporate Social Responsibility within your organization. Aunt Flow has something new and fun planned for the hotel and lodging community-come check it out!


Resources: Modern Thinking & Instruction For Your Staff
New programs and thinking from the national American Hotel & Lodging Educational Institute are key to the growth and retention of our workforce from various resources. Rediscover industry programs and portable, stackable certifications for lodging staff as well as high school and college students. Take the next step by implementing Workforce Training Programs including Sexual Harassment, Unconscious Bias, and more.


Guest Experience and Innovation for the External and Internal Guest
(Customer Experience & Innovation: A Beta Test)
Learn about a Customer-centric approach to service improvement. What is it? Does it work? Learn what Hilton did to find best practices to recreate their customer experience.


A Day in the Life of Nerdy Hotel & Lodging Professional
So many apps... so little time. How can you put the technology at your fingertips together to make your life easier at work and home? This fast-moving, laugh-filled session takes you hour by hour through a day in the life of a tech-savvy professional. You'll learn how a professional nerd solves a security crisis before 10 a.m., learns to make more of a lunch hour with an extra set of virtual hands, saves money on software before the staff meeting and brings the team together online before the day is done.


General Session: Dream, Dare, Believe & Do!
Learn how John used Walt Disney's inspiration and how you can use these same strategies to overcome challenges, reach your goals and achieve success in business, career and in life!


Take off With Tech
The Musts & Benefits of Having a Digital Marketing Plan to Succeed in Lodging
A review of the 10 things you must do to reach your goals and 2 that you should consider.


How do You Hire? Make the Shift
Experience a whole new way of hiring on demand labor. The answer is in the palm of your hand. Find out how this innovative tool can improve your day to day operations!


Are You Hackable?
Cyber security is more than just a catchy phrase, it is a new priority that all businesses need to address or face costly consequences. Take advantage of the chance to meet and hear from international experts and watch as they show how many systems and organizations aren't as secure as they might think.
Sales Track
Negotiating Value
Discuss what negotiations are, what they are not, and what factors affect them. Learn to recognize buyer characteristics by what is said and how it is said, and to create a negotiating strategy to strike a deal with them. Spend time on practicing your strategy.


Prospecting & Making Your Pipeline
Learn how to make your pipeline come alive at the property level and keep your clients engaged all year long. Bring your ideas and share your successes with the group to learn what could be best for you for this workshop style session.

Unique Lodging Track
Service to a "Tea"
Create what your guests want most: experiences. In this session learn how tea service & other service offerings can really make an impact on your guests and help spread the word about your property.


Work with what you got! Generating additional revenue in the space you have
What opportunities are available for your property to generate revenue outside of sleeping rooms? Packages, partnerships, and one-of-a-kind items can help set your experience apart.


This Session is "Dope"!
As marijuana becomes legalized across the country, what liability does your property hold? How will legalization continue to change the culture of a drug-free workplace or a smoke-free property in the state of Ohio?
Melanie Adams, Assistant Professor, Cuyahoga Community College
Ms. Melanie Adams is an Assistant Professor of 16 years, in the Hotel, Destination, and Event
Management Program of the Hospitality Management Center of Excellence at Cuyahoga Community
College. She received a full four-year scholarship to, and graduated from Johnson and Wales
University in Providence, Rhode Island. She continued her education with an MBA in Hospitality and
Tourism Management from Columbia Southern University. She currently holds the status of Certified
Hospitality Educator from AHLEI and is a certified instructor/proctor with the National Restaurant
Association for the food safety program Servsafe.

Ms. Adams has worked in many hospitality positions as General Manager, Director of Guest Services,
Operations Manager, Resident General Manager, Director of Sales, and Executive Director of Event
Planning. These positions were working with major hospitality companies and resorts such as
Marriott, Ritz Carlton, Accor, Studio Plus, Extended Stay America, Wyndham International, Lakeside
Resort, and the Ocean Reef Club in Key Largo, Florida. She resides on the west side of Cleveland with
her two sons.
---
Heidi Anaya, Trainer, Signature Worldwide, Inc.
In her role, Heidi has extensive experience training in hotels as well as in the equipment, insurance, casino, financial, and trucking industries. She is certified to teach a wide variety of courses ranging from Sales to Prospecting to Negotiating to Presentation Skills to Customer Service.

Prior to joining Signature Worldwide in 2011, Heidi was an integral part of the Signature Canada team for three years where she was the lead trainer for the company.
Her career in the hospitality industry has spanned over 20 years and has included roles ranging from Guest Services to Sales & Catering to her final role as Corporate Director of Catering for SilverBirch Hotels & Resorts (Canada). It was that role that cultivated her passion for training as she was responsible for on-boarding all new Sales & Catering personnel across the company.
Heidi holds an Associate's Degree (with Honors) in Hotel & Restaurant Administration from the Southern Alberta Institute of Technology in Calgary, Alberta (Canada). She also holds a Certification in Hospitality Business Acumen from the Hospitality Sales & Marketing Association International (HSMAI) and is a certified trainer of the course.

Heidi lives in Middletown, Delaware with her husband.
---
Steve Anevski, CEO and Co-Founder, Upshift
Steve Anevski is the CEO and co-founder of Upshift (www.upshift.work), a leading mobile-first, W2 staffing platform that provides instant access to vetted workers and allows hotels to choose who comes to work for them. Founded in 2016, Upshift's proprietary technology provides a simple, effective recruitment solution tool for full-time and flexible work, connecting and matching qualified and vetted Upshifters with available shifts through its mobile app. Upshift is changing the way hotels find, schedule, and manage their contingent workforce.
---
Jill Arnett, Chanel Vice President, National Restaurant Association
Jill Arnett is Channel Vice President, Academic Markets, for the National Restaurant Association. The American Hotel and Lodging Educational Institute became part of the association in 2017.
Jill joined the association in June 2018 and oversees a team of eight who promote training and certification products to high schools and colleges. Many of these training materials and certifications are also used by hotel and lodging properties across the US and internationally. AHLEI's offerings continue to grow as they recently released Sexual Harassment Prevention for the Hospitality Industry, Understanding Unconscious Bias, and a new online Hospitality Management training program.
Prior to joining the association, Jill was a Regional Vice President with McGraw-Hill Education, where she was in charge of sales and support teams in both the K-12 and the adult education and workforce training markets. Based in Chicago, but an Ohio native, Jill is a graduate of Wittenberg University and a proud Buckeye.
---
Harley Blakeman, CEO & Co-Founder, Honest Jobs
Harley is on a mission to help 1,000 employers intentionally hire formerly incarcerated job candidates. Since getting out of prison at 20 years old he graduated from OSU's Fisher College of Business with honors, published the book "How to get a job and build a career with a criminal record", and started HonestJobs.co - the second-chance employment platform used by over 150 companies nationwide.
---
Andrea Bushweiler, Owner, The Lakehouse Inn
In 2000, Andrea, along with her parents, purchased The Lakehouse Inn, a 12 room Inn and 8 cottages located along the shore of Lake Erie in the summer resort of Geneva-on-the-Lake. Over the past 19 years, Andrea & her family have turned The Lakehouse Inn into a year round destination and today the property consists of an 8 room Inn, 4 cottages, a boutique winery, 50 seat farm to table restaurant and full service day spa.
---
Margie Coltharp, Director of Brand Hospitality, Embassy Suites by Hilton
Margie Coltharp is a hospitality professional with proven experience in large, cross functional project management, as well as having extensive expertise in leadership, learning and organizational development. Margie is a passionate and driven advocate for the Embassy Suites by Hilton brand, with ownership and accountability for brand programs relating to the brand's unique Make a Difference culture, service and problem avoidance/resolution innovations. Margie focuses every day on enhancing the Guest, Team Member and Owner/Management Company Representative experience for the Embassy Suites brand.

In Margie's spare time, she enjoys spending quality time with her husband, Mark, grown children Chris and Emily, and grandson Tristan. You can often find Margie on the golf course with Mark, or on her stand up paddle board.
---
Steve Fofanoff, Sales Manager and Innkeeper, Odysys
With over 25 years of leadership experience working with companies as diverse as Discovery Channel, Wyndham, Macy's, Starwood Resorts, Stephen brings a broad understanding of the guest experience, brand development, systems design, and hospitality leadership to the Odysys team.

As a passionate and dedicated leader, Stephen co-founded Art and Soul Enterprises, Inc. to provide management services to inns in the Northwest. He also serves as the VP of Marketing for the Washington Independent Inns Network (formerly Washington Bed and Breakfast Guild). His master's in organizational leadership provides a lens to shape tools and resources for independent lodging properties struggling to adapt to the rapidly changing hospitality industry.

Stephen has been recognized and awarded for his innovative approach to business, his dedication to serving the community, and to being a champion for independent lodging properties.
---
John Formica, The "Ex-Disney Guy"
John, the "Ex-Disney Guy", is a highly sought after internationally known speaker, business consultant and author of the top selling book, "Making the Customer Experience Magical Now!-How to Succeed in Business and Beat Out Your Competition Today".

Recently featured in the Virgin Atlantic In-flight Magazine while completing two successful speaking tours in Australia and named "Australia's Best Customer Experience Coach" by the Melbourne Herald Star, appeared on the NBC Morning Show, FOX, Univision, numerous business journals and Radio, John has inspired audiences with over 3,000 keynotes and seminars throughout the U.S. and all across the globe.

Prior to speaking, John acquired over 25 plus years of experience in top management positions with service industry leaders including Walt Disney World Resort®, Hyatt and Hilton Hotels and Sunrise Senior Living.

During his 10 years at the Walt Disney World Resort in Orlando, FL, John was selected to manage their top luxury resort properties during Disney's Resort Division expansion from 4 to 16 hotels and lead his teams to achieve the highest guest satisfaction ratings among all Disney World Resort Hotels.
Today, John is "America's Customer Experience Coach" and leading authority on tourism, hospitality and service industries alike. He has successfully coached hundreds of small businesses and tourism communities to build customer loyalty for life, increase visitors, attract more customers and create "Whistle While You Work" Team Environments.
---
Gretchen Friend, Assistant Professor, Columbus State Community College
Her daily activities include advising students in the Hotel, Tourism and Event Management Program
and teaching courses on financial management, travel planning, tourism economic development,
event planning, lodging operations and sales/marketing.

Much of her career has revolved around business operations, marketing, teaching and training.
Previous positions include marketing manager and coordinator for Historic Dublin Business
Association and Uptown Marysville Renewal Team, where she was responsible for marketing,
economic development, event planning, business retention, revitalization and public relations. She
also served as the executive director and charter board member of the Ashtabula County Convention
and Visitors Bureau.

Prior to moving to Central Ohio, Gretchen was the owner/operator of a nautical gift and apparel
shop in the Historic Bridge Street District in Ashtabula Harbor for nineteen years. During that time
she was integrally involved in the historic preservation, tourism promotion and marketing efforts of
Ashtabula Harbor.

Currently, she is an OHLA board member, committee member of the Education and Workforce
Development Committee and an AHLEI Certified Hospitality Educator.
---
Robert Fulton, Chief Executive Officer, Association of Independent Hospitality Professionals
Rob is a Certified Association Executive (CAE) through the American Society of Association Executies (ASAE). Rob is also a graduate of Penn State's, Pennsylvania Leadership Program, Class VII (1999) and also served as a facilitator for that program through 2003. In 2016, Rob accepted the position as CEO of the newly formed Association of Independent Hospitality Professionals (AIHP).
---
Craig Heckman, Senior Vice President of Human Resources, Cedar Fair Entertainment Company
In December 2016, Craig Heckman became the company's first dedicated human resources professional to join the Cedar Fair executive team, bringing with him more than 30 years of experience working for consumer retail leaders, including Macy's, L Brands, and Express.

Craig was highly recruited to "modernize and develop the HR function," a business goal shared with investors on a quarterly earnings call by Richard Zimmerman, then COO about to become CEO. From the outset, Craig designed a strategy that would have the greatest impact on the business. For Cedar Fair's HR team, few activities are as essential to park operations as recruiting, an effort that results in nearly 50,000 hires annually, most of whom are seasonal Associates assigned to run the day-to-day activities of the company's 13 parks and resort properties. As such, Craig made recruiting his top priority, moving quickly to build a strategy that included new technology and processes, employment branding, as well as adding recruiting professionals across the organization.
---
Mark Hecquet, President & CEO, Butler County CVB
A native of London, England, Mark has spent the last 17 years working in the tourism industry.
Mark is the President & CEO of the Butler County Visitor Bureau (BCVB) and is responsible for
economically enhancing Butler County through tourism development, sales and marketing
initiatives.

The BCVB is the official Destination Marketing Organization for Butler County. Mark has led the
organization since its inception in 2006 and leads a team of 10 BCVB tourism professionals and
seven tourism ambassadors. Mark and his team are responsible for generating over $50 million
dollars in economic impact each year.

Mark currently serves on the Destinations International Accreditation and Research advisory
committees and the board of the Ohio Hotel & Lodging Association. He has served as the Board
President for the Ohio Association of CVBs and on the Executive Board for the Ohio Travel
Association. Locally, Mark serves on the board of the Pyramid Hill Sculpture Park and Museum.
Prior to the BCVB, Mark created and developed the sports marketing program at the Warren
County Convention and Visitors Bureau generating over $10 million annually in direct spending.
Mark holds a MS in Sports Management and a BS in Business Administration and Management
from the University of Kentucky. In addition, Mark has attained the Destinations International
designation of Certified Destination Management Executive (CDME) and the National Association
of Sports Commissions Certified Sports Event Executive.

Mark is an avid Ironman triathlete and currently resides in Liberty Township with his wife Beth
and two children Mason (15) and Lauren (11).
---
Holly Hollingsworth, Brand Marketing Manager, Hotel LeVeque
Brand Marketing Manager, Holly Hollingsworth has been a member of the Hotel LeVeque team since the beginning as the second hire on the team after General Manager, Geri Lombard. She has led the charge with marketing and branding of the hotel up until and following it's opening in March of 2017. Holly is also the Brand Marketing Manager for the Renaissance Toledo Downtown Hotel in Toledo, Ohio which is another hotel in ownership group First Hospitality's portfolio where she enjoys continuing to work with the unique Renaissance Brand.

Prior working at Hotel LeVeque, Holly worked for a publishing, marketing and advertising agency in North Carolina as a Project Manager, then moved to Northwest Indiana where she worked for Cars.com as a Training and Onboarding Coordinator. After moving back home to Ohio, Holly took a job at the Renaissance Columbus Downtown Hotel as an Executive Administrative Assistant/Marketing Coordinator, and this is where she first fell in love with the hospitality industry.

Holly serves the broader hospitality community by participating in local and state organizations. She currently sits on the Board of Trustees for the Ohio, Hotel and Lodging Association where she also serves on the Events Committee as the Co-Chair of the Ohio Hotel & Lodging Association Annual Conference.
---
Florence Hunt, Area Human Resources Business Partner, InterContinental Hotels Group
Flo Hunt is a member of the executive committee of InterContinental Hotels Cleveland as area director of human resources for the three (3) Cleveland Clinic Campus Hotels; InterContinental Conference Center, InterContinental Suites and Holiday Inn Cleveland Clinic. Flo's responsibilities involve the combined total of more than 500 employees. She joined the company in May, 2006 and oversees all human resource functions, including recruiting, training, professional development, employee relations, labor relations, benefits, compensation and government compliance. Flo was also named the "Best of the Best" Human Resources Director for the entire Americas and European regions of InterContinental Hotels Group.

Flo is a seasoned professional with over 30 years of Human Resources experience. Prior to joining the InterContinental executive team, she was a regional director of human resources for Boykin Management Company, where she directed human resources programs for several hotel properties in Ohio, Michigan, Florida and North Carolina. Her prior experience includes career positions with Menorah Park Center for the Aging and Huron Road Hospital. She is most proud of her ability to recognize and grow talent, as can be seen by the many individuals that have progressed in their careers under Flo's leadership and direction.

A native Clevelander, Flo's education includes the MCI Business College, Employers Resource Council, and the John Carroll University. She is a certified Human Resources Executive and an active member of the Society for Human Resources Management since 1997.
---
Tim Johnson, Chair, Ohio Cannabis Chamber of Commerce
Tim is a United States Air Force Veteran and retired Law Enforcement Officer. Upon leaving
the military he received his degree in Applied Science Law Enforcement & Criminal Justice. In
1993 Tim received his certification from the Ohio Peace Officer Training Academy and after 20
years of service he retired. During his tenure he worked with various task force units from
federal to local drug interdiction and high profile subject protection security services. Tim
found experience in many fields as a field training officer, hostage negotiator, critical incident
team, investigations, community relations and defensive tactics Instructor. Tim earned state
certifications as a train the trainer in crime prevention, personal safety, business security and
for safe school programs developing and implementing many of his own safety programs into
the local school districts and the business community. After retirement, Tim created his
company Cannabis Safety First and began consulting services in safety packaging, facility
security, safety training methodologies and educational awareness programs in the growing
cannabis industry.
---
Sam Lillard, Partner, Fisher Phillips LLP
Samuel Lillard is a partner in the firm's Columbus office. His practice focuses on general employment litigation, arbitration, and mediation. Samuel is a seasoned litigator with over 20 years of experience in representing employers in all Ohio and federal courts, as well as a number of regulatory agencies, including the Equal Employment Opportunity Commission (EEOC), the Ohio Civil Rights Commission, the Department of Labor (DOL), the Occupational Safety and Health Administration (OSHA), and the Office of Unemployment Compensation.

He also advises both private and public sector employers on various employment and personnel matters, including issues that arise under the Family and Medical Leave Act (FMLA), the Americans with Disabilities Act (ADA), drug testing policies, workplace safety, sexual harassment, employee discipline, wage-hour matters, protecting trade secrets and confidential corporate materials, and the drafting and enforcement of non-compete/nondisclosure agreements.
Samuel is also an allied member of the Ohio Hotel & Lodging Association, and a frequent lecturer to the hospitality industry on various employment topics, including public accommodations under the ADA.

Samuel been included in Ohio Super Lawyers every year since 2009.
---
Chad Pence, National Accounts Manager, PeopleReady
Chad Pence is a National Accounts Manager with PeopleReady overseeing all hotel national accounts for the organization. Prior to moving into a National Accounts Manager role, he was a Hospitality Sales Representative for the company in Columbus, Ohio.

Chad is a 20 year veteran of the hotel industry with extensive experience in hotel operations, including holding positions as a General Manager. After a successful career in the hotel industry, Chad joined PeopleReady to focus on developing and maintaining partnerships to assist with fulfilling hotel workforce development needs. He emphasizes the importance of a hotel's needs with the ability for branches to offer the right solutions for staffing of hotel operations.
---
Amber Runyoun, Founder, Eleventh Candle Co.
Amber Runyon is an activist for social change. A hospice nurse turned social entrepreneur, she started Eleventh Candle Co. out of the desire to bring hope to women both in the United States who've been vulnerable to human trafficking, abuse, exploitation, and addiction by providing a therapeutic work setting and rehabilitative resources. Eleventh Candle Co. is a product line launched through Legacy, a non-profit based out of Columbus, Ohio. Collectively, these two organizations have come together as a social enterprise working to redeem, restore, empower and equip those vulnerable to human trafficking.
---
Marie VanDervoort, Managing Director/Founder, Sabu Hospitality Consulting
Marie's professional experience spans more than 27 years of hospitality and tourism experience. She has over seventeen years of on-property hotel experience with full-service, mid scale, and luxury hotel brands, as well as over a decade of global sales experience representing over 5,700 hotels globally.
Marie is founder of Sabu Hospitality Consulting and she is also the Executive Director of Westerville Visitors & Convention Bureau. Marie lives in Westerville Ohio with her husband John. She is an avid cyclist, outdoor adventurer, and travel enthusiast.


---
Danielle Walton, Co-Founder and COO, Adept Marketing
Danielle is the Co-Founder and COO of Adept Marketing. With nearly 20 years of experience in e-commerce, customer acquisition and lead generation, Danielle has a proven track record of building and executing growth strategies for clients. By understanding their business, evaluating the marketplace and setting specific goals, she puts clients on a path to align digital marketing with revenue and profit growth. Danielle is an experienced speaker and contributor to publications including Business First, Medium, and Columbus CEO.
---
Anne Weigand, Director of Happiness, Aunt Flow
Anne Weigand studied Sexuality Studies and Public Health at The Ohio State University. Her education combined with an entrepreneurship and sales background, she joined and supported the growth of Aunt Flow, a woman-owned company that specializes in organic cotton menstrual products. Aunt Flow's mission is to ensure everyone has access to necessary menstrual products throughout their life including educational and workplace environments. Small businesses, hotels, corporations and schools choose Aunt Flow as a sustainable solution to provide in their employees and guests. For every 10 products sold, we donate one to an individual in need in the USA.
---
Allison Whitaker, President & CEO, A Plus Staffing Solutions
Ms. Whitaker is CEO of A Plus Staffing Solutions a certified Woman Owned Business Enterprise
headquartered in Columbus Ohio. A Plus Staffing Solutions is a full-service staffing firm that specializes in Temporary, Temp to Perm, Direct Hire and Management Recruiting in the Hospitality, Health Care and Light Industrial industries. Ms. Whitaker has more than 20 years of diverse business experience including the establishment and building several successful companies. Previously, she served as Lead Consultant for a national hospitality staffing company, was Founder and Owner of a Florida based Executive Recruiting and Consulting Firm specializing in accounting and finance personnel. She has also served as Vice President of a Florida based community bank and was co-Founder of an International non-profit organization, Soccer for Souls, which received the Hyundai Non-Profit of the Year Award during the first year of operations. Ms. Whitaker currently serves on the National Board of Directors of Volunteers of America. Past associations include Board Service for the American Red Cross, Volunteers of America of Florida, Florida Venture Forum, Red Cross Angels, University of Tampa Board of Fellows, Florida Council on Economic Education, on and the YMCA.
---
Beth Ziesenis, Your Nerdy Best Friend
Although the only real trophy she ever won was for making perfect French fries at McDonald's in high school, Beth Z has been featured on Best Speaker lists by Meetings & Conventions magazine and MeetingsNet. And she recently attained her credentials to be a Certified Speaking Professional. It's kind of a big deal.

Since her first Commodore 64 computer, Beth has made a verb out of the word nerd. She helps computer users all over the country filter through thousands of apps, gadgets, widgets and doodads to find the perfect free and bargain technology tools for business and personal use through presentations and her books, including the latest title, The Big Book of Apps, available on Amazon.com.
Exhibitors
---
Exhibitor Toolbox -
Anything and everything you would need to know about exhibiting at the 2019 OHLA Annual Conference all in one place!
---
Exhibitors at the 2019 OHLA Annual Conference & Gala
---
Acculock


Advantage Equipment, Inc.


Advanced Floor Care


American Hotel & Lodging Educational Instituate/ National Restaurant Association (AHLEI/NRA)


Association of Independent Hospitality Professionals (AIHP)


Anonymous Insights


Amana


Associated Risk Managers of Ohio


Belenky


Belfor


BMS CAT


booking.com

Broadband Hospitality


Cap City Restoration


CareWorks Comp


CareWorks Ohio Managed Care


Champs Group Purchasing


CINTAS

Crimcheck


Daktronics


ECOLAB

Eleventh Candle Co.


Evolution Energy Partners

F&D Commercial


Furniture Bank of Central Ohio


Great Lakes Supply Co.


Greenworks Lending


Habegger Corp.


Honest Jobs.Co


Heartland


Holdfast


Hotel Insurance Pro


IGS Energy


Information and Communication Services


Innovative Displays


Innvision Hospitality

ITA Audio Visual


Mill Distributors

Ohio Cannabis Chamber of Commerce


People Ready


Plunkett's Pest Control

Refresh Refinishing


SA Comunale


Serta Simmons Bedding


Signature Worldwide


Spectrum Enterprise


Standard Textile


STR


The M & L Equipment Company

Twinings of London


Upshift


Warwick Communications


Woodland Environment


WVC Rubixcloud
​2019 OHLA Annual Conference Sponsors -- Thank you for your support!
---
Presented by

CONFERENCE VISIBILITY
CONFERENCE EVENTS
CONFERENCE PROGRAMMING
CONFERENCE RECEPTIONS & ACTIVITIES
PROGRAM ADVERTISING
OHIO STARS AWARD SPONSORS
Housekeeper of the Year

Server of the Year

General Manager of the Year

ULO of the Year

Service Superstar of the Year

Supervisor/Manager
of the Year

Hospitality Leadership Team
of the Year