Coronavirus (COVID-19)
---
COVID-19: Hotel & Lodging Update State stay at home order contains hotel EXEMPTION
---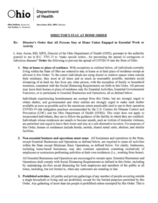 State of Ohio issues widespread "stay at home" Order, hotel & lodging businesses to be classified as essential and therefore exempt.
In today's briefing by the Governor and the Director of the Ohio Department of Health, state government has issued an Order which requires Ohioans to largely stay at home and avoid travel.
The order is in effect from 11:59 p.m. Monday March 23 until April 6.
The Order contains a provision for "Essential Businesses and Operations" which includes "hotels and motels."
The Order states specifically that the exemption includes "hotels and motels, to the extent used for lodging and delivery or carry-out food services."


Hotels For Non-Traditional Business Use
---
One role hotels can play is helping serve the community in various ways while also where possible securing revenue to help sustain operations until recovery.
OHLA has created an online system and is sharing information with the AHLA Hotels for Hope program to connect hotels in Ohio with agencies who may need hotel capacity for various needs, such as temporary use as health-care related facilities, serving first responders or health care professionals, working with local and state Emergency Management Agencies, and serving local homeless agencies to serve at-risk populations.
It is important to OHLA that hotel participation in any program for non-traditional business should be voluntary and up to each hotel. Signing up in our system does not commit a property or company, it is just a way to get connected with aforementioned agencies.
If property or company is interested in these opportunities, please fill out the following form.


How hotels participate would be up to each company, but we would suggest a contract that includes full compensation, addresses the need for sanitization/maintenance at time of reconversion, and stipulates health care professionals not hotel staff are serving patients or people in isolation. OHLA is not involved in creating of leases or contracts, that is a business decision for each property. We do have sample occupancy & lease agreements linked below:
National Emergency Occupancy Template
State of California Example Hotel Occupancy Agreement

See Our Additional Resources

---
FOR MORE INFORMATION
Contact Ohio Hotel & Lodging Association at 614-461-6462 or info@ohla.org